TIP ON THE TRIP - CROATIA : isle HVAR - fischerís village JELSA
On this jaunt incommensurate only free weekend. Is it recommendation on handsome vacation, holidays or extra charges holidays, like those was this year. Island Hvar locate in southern parts Croatia in Adriatic sea. Round they are further known islands, such as Brac, Korcula and Vis. Across from alongshore underlie 1700 metre high sheer rocky chalky rockery haunt Makarska riviera. Stay on island is but much romantic and adventurous beyond on hotels and thick germans size error coast. Hvar in addition has mostly clock around sunshine behind year.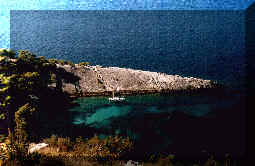 Trying part jaunt is almost 1200 kilometers per hour trudge from Prague. Pass we are Austria (on the way was vista of several pretty castle), all of 100 kilometers per hour Slovenia and remainder ways led already territory Croatia. Eight hundred kilometre from Prague be ours first stop. In brief we are with view on Big waterfall and part Plitvicka lakes. Further pretty falls we are discover around sea near village Zadverje. Native gammer there curiously sniff our bread, because such never perhaps unseen.
At last with in front of us discover green-blue sea. Rise and air temperature and surrounding bushes and timber exclaimed tropical smell.
Remain us even way ferry on the top island and lastly sorely run narrow zig-zag road on the mountain. Road didnít have verge and here and there directly below she fall sheer deep escarpments. Saw we are and several charred wreck, which drop into deep abysses.
Safely we are finish off home of our ways. Accommodate we are with in pretty suite of rooms among Vrboska and Jelsoa near good-natured port skipper Zencic in whites uniforms. Have cognizance of he has already from last yearís and he is our good friend. Captainís house overlies all of 50 m home in quied pine grove.
Till this time be with photography largely upheld dad at exacting photography life insect and universe. At the seaside me dad warded photography nature and interesting places, which we are visit with. On sensing you can pass judgment on, how with me it precious.
Visit with we are several pretty bays, where was limpid water, show through out at elbows without problem all the details and deep more than five fingers. Jump is of high stone terrace, dive among rockies and watch sundry expenses aquatic animal et other organisms. Several my bag dad photo aground, beyond am is return into deep sea.
Biggest town on island with appoints Hvar. See through we are yourself him daytimes and at night, as well as Jelsa or Stari Grad.
Everywhere they are handsome stone houses, narrow alleys, churches and patisseries with unexceptionable ice cream.In port we are observedvaline excursionary and trawlers. Behind undisturbed night shine on sea level lights their boat. Throughout island they are sights from rich history those areas mediterranean.
On the mountain near settlement Humac is cave Grapceva Spilja, in which have been found remains from time settlement primeval peoples. Further cave with remainder cloister be above hamlets Svata Nedjelja. Town Hvar guarded two fastnesses, one used like place for panoramatic look on town, sea and not far off groupuscule fifteen isles, on second is locateastronomically observatory. In Vrboska is fishing museum and church rampart like fort.
Way back us complicate storm at sea. Not sail ferry, we had to 15 clock around expect in the rain on the pier, where on car shot frothy salt water. Whole ways as far as our limits rained, in Croatia lay on road cobble erode from rockery night blustery storm.
Finish off we are home awearied, but with handsome remembrance of pretty vacation.
notice: sorry, my english is no perfect ( i speak and write very good czech! )
/photos: landscape, underwater, historic memory/
ANOTHER PHOTOS - SECOND TRAVELL IN CROATIA
/from Plitvicka lakes, Dubrovnik/
Hyperlinks from visit my others intresies:
ASTRONOMY - ENTOMOLOGY - MUSIC - EXOTIC REPTILES - TRAINS model
BACK TO HOME more informations about me
© Petr Hejna jr. 2000